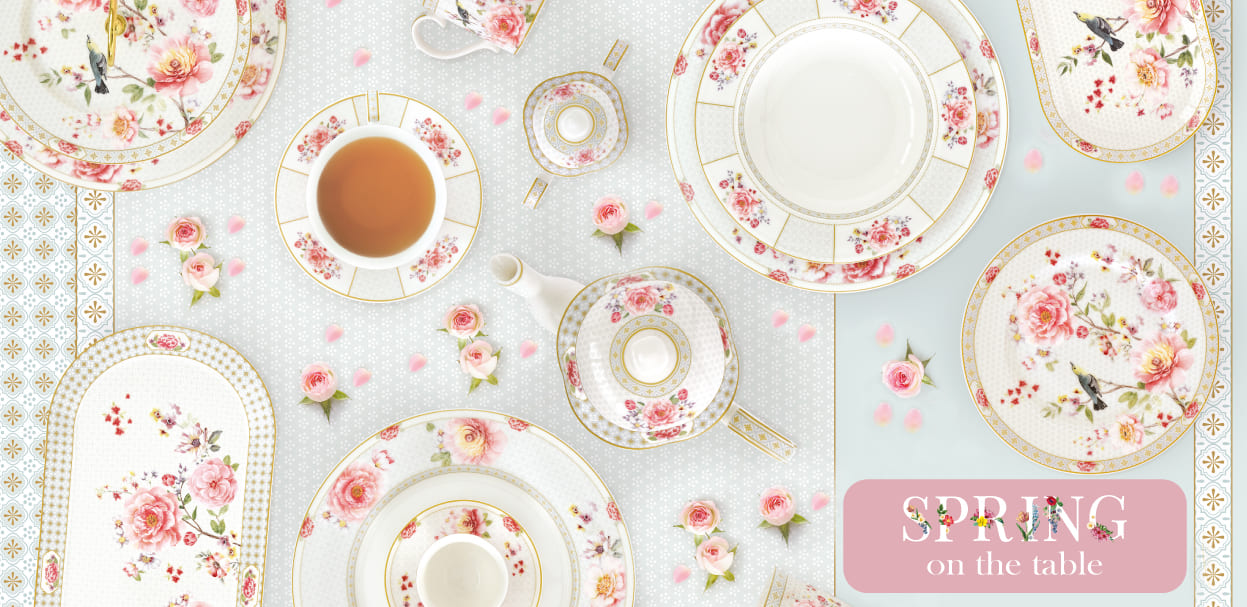 Spring has arrived! Are you ready to set your table in a creative way? With the arrival of this season, in fact, a Spring Table is a very good idea.
Decorating a spring tablescape is easy, you just have to find the right inspiration and theme decorations that bring to mind the joy of springtime.
So, take a look at the gorgeous ideas of Easy Life Collections!
This is why Spring can be an inspiration for decorating a table
Spring is the season of the year that heralds the end of the cold Winter and welcomes both the first warm rays of sun and the awakening nature.
Therefore, the ideas for setting a spring table link to the features of this season. Thus, cheerfulness, harmony, color and lightheartedness of this flower season become the useful guidelines to follow.
When we talk about Spring, we usually think of the land that rebirthes and the flowers that bloom. Nature is colored and delicate pastel shades bring to mind peace and tranquility. The mild climate allows to admire even more the views that surround everything; here the harmony reigns supreme.
Why not take on your table some of this harmony?
A lot of ideas to set a Spring Table
Where can you start? From the tablecloth, of course. If you want to underline the beauty of your decorations and your special sets of dishes, it is better to prefer a neutral colored fabric. It will be the ideal background of a romantic and chic table.
Once you have chosen the tablecloth, you need to focus on the tablescape, in order to obtain an original and creative table setting.
The stars of the Spring Table are the flowers, undoubtedly. Daisies, roses, tulips and primrose and so on.
Every flower is beautiful and you can choose your favourite because hand-made bouquets can become delightful decorations for the place settings. Or you can opt for a gorgeous floral arrangement of fresh flowers that can be a wonderful spring centerpiece. Arranging small pots on the center of the table is another good idea; inside of them, fresh flowers can be tied with colored ribbons for a cohesive look on your table.
But the color of your flowers is important: in order to set a beautiful and romantic Spring Table, it is better to choose pastel shades that describe both the season and the rest of the enviroment.
To complete it all, the esclusive touch of the sets of dishes must not be missing.
In fact, decorations are not enough to have an elegant and chic table. Sets of dishes, in particular, are the most important thing.
Thanks to Easy Life Collections, there are a lot of wonderful ideas that are perfect for the occasion; with them your Spring Table can become special, unforgettable and romantic.
A day in the garden Collection
Easy Life Collection named "A day in the garden" is very elegant. In this collection there is the magic of a flowered garden during springtime.
The white color is the background of a wide range of bright colors; in particular pink is represented in all its shades.
Dinner plates, soup and dessert plates are rich in details. Image the mise en place! The design of coffee cups is gorgeous. And then, two tier cake plate is perfect together with the teapot and the beautiful cream and sugar set. To complete it all, there is a very nice porcelain handled cake slicer.
A day in the garden is a blossom explosion made of high quality.
Palace Garden Collection
Palace Garden Collection is composed of a lot of pieces. Sets of 18 pieces, cake plates, mugs and cereal bowls, sets of porcelain handled tea spoons and so on.
On these pieces there are soft shades and pleasant flowers like tiny roses, match together with twigs and little birds. Palace Garden is a romantic and refined collection, for a table with a classic style.
Sakura Collection
Sakura is the name of the typical Japanese cherry-tree. White background and cherry blossoms are, in fact, the main elements of this collection.
With Sakura Collection, Spring is on the table thanks to the use of natural materials. Some of the items are matched with little acacia saucers for a classy table.
Blooming Opulence Collection
Blooming Opulence Collection is composed of a variety of pieces: bowls, mugs, cups of coffee, sets of porcelain handled tea spoons and pastry forks. The graphic of this collection is a bouquet of flowers on the black and white backgrounds. Accordingly, on the Spring Table there is a wide range of colors. Blooming Opulence is an original and creative collection.
Romantic Lace Collection
Blue and pink backgrounds match with a lot of Spring flowers. The design is very elegant for plates, bowls, cups and teapots. All the colors are surrounded by hand-painted gold borders: this particularity makes the collection unique and spectacular.
Thanks to Romantic Lace Collection, a refined mise en place is guaranteed.